Those who have fallen in love with orchids, which are considered the "queen" of flowers. White orchids show purity and gentleness, purple orchids symbolize royalty and admiration, and are traditionally given as a sign of respect and the expresses the romance and integrity of the couple's love.
In the natural environment, purple orchids "show off their attractive body" in forests or cliffs. This flower is also quite easy to grow, so you absolutely can cultivate purple orchids into your home. Besides being symbols of fertility, charm, beauty, refinement, Orchid flower is also a symbol of love. You can always surprise your partner with a beautiful Orchid flower and show him or her how much love you have.
Show respect for each other!
Purple orchids represent the colour of love, cherishing the other party, cherishing emotional relationships. This flower is very suitable for giving girlfriend, lover on weekdays or anniversary of love.
Show romantic and gentle!
If anyone asks which flowers bring lightness and romance to love, purple orchids cannot be missed. With outstanding colours, the harmony between scent and colour will help love sublimate than ever. Valentine's Day, International Women's Day or birthday or the most daily day, do not hesitate to give your loved one a bouquet of beautiful purple orchids.
Show the expectation!
Just like love, expectation is always present, purple orchids keep themselves with their fresh scent. Like love, both are happy, happily expecting the best to love, no matter how far away.
Purple orchids will change meaning if you are in love. For someone you love a bouquet of flowers, a pot of colourful purple orchids for more passionate love.
Show a sincere feeling!
The brilliant, romantic purple orchids are dedicated to those who love with the sincerest meaning for each other. Give your loved one beautiful orchid on Valentine's Day, anniversary of love, wedding anniversary.
Show the faithfulness!
Purple colour of faithfulness, the orchid also has a purple colour, bringing a sense of fidelity to love. The purple orchids change words forever, one heart for each other on the day of proposal or anniversary … If you fall in love with someone, give them this bouquet of faithful purple orchids.
Show independence and attract to others!
The purple colour of orchids also shows independence, mysteriously attracting the opponent. Many people are infatuated, many people are "drunk" by the beautiful and splendid beauty of purple orchids.
Dating is very suitable to give purple orchids to attract others.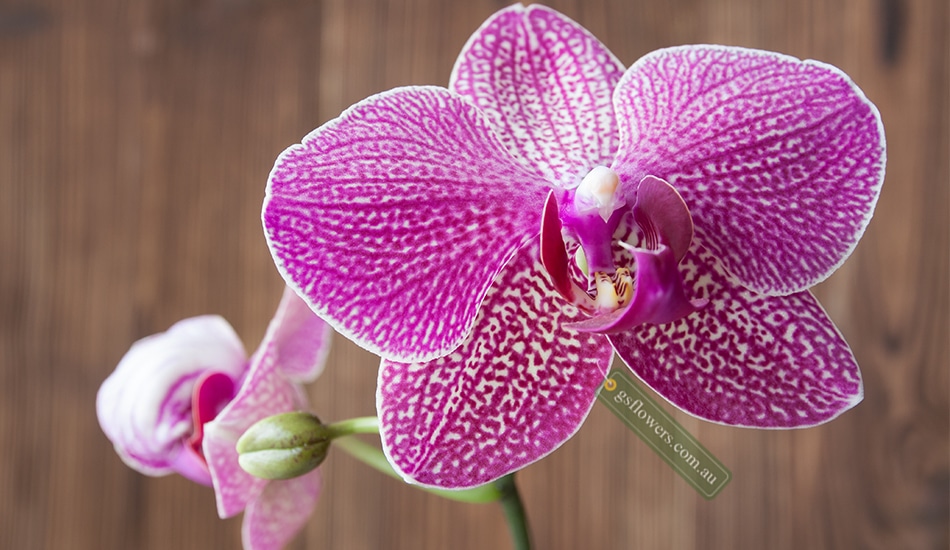 The meaning of purple orchid in love
Purple orchids with gentle flowers signify warmth and vitality. Purple orchids symbolize romantic love and loyalty, carefully packaged, extremely "cool".
It will be incredibly special if you send it to your lover on the first date, or birthday, valentine's day, love anniversary …
When your love has deepened, you should give a bouquet of purple orchids to show your passionate, deep, and faithful love.
The tender, seductive purple colour of purple orchids will make your loved one fall in love.
Conclusion
Hopefully, the above article on the meaning of purple orchid flower can partly help you understand more about the flower that carries many meanings and can choose purple orchid on an important occasion to give to your loved ones. Come to gsflowers.com.au to choose the most beautiful sunflowers bouquet for your loved one.
All content in this article Copyright © 2021 GS Flowers unless otherwise stated.